Today, its hall convo shoot for me. I'm terrible tired now. Preparing to do my mask, while I upload pictures I took and writing this entry.

Morning was nothing special. But rain started to pour in really heavily at about 11am. I am on 2nd thoughts of going all the way to school. After confirmation with some hall-mates regarding the weather in hall, I decide to proceed as planned. I reached hall via public transport in 1 hr 15 mins time! I reach exactly at 2pm. I'm on time!

The photoshoot was a bit boring in my opinion, prolly because I don't feel v.attached to the pple there except a few. At least paw, nick, cheelip, ed and huiyeng made it less boring. And I guess partially I was feeling tired, tired from the travelling I guess. Refreshments were provided and they taste great. Maybe I was hungry. heez. And here are the pics!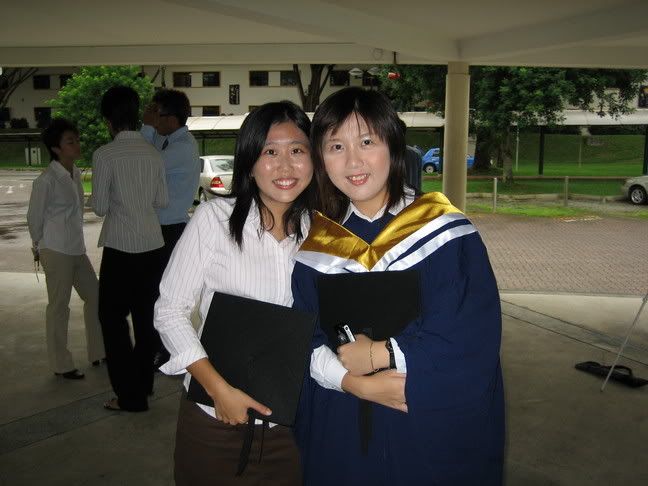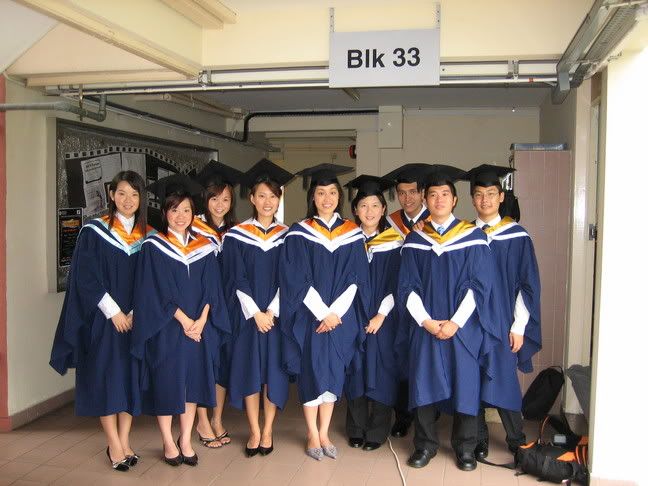 More at -->
http://photobucket.com/albums/b296/flowerprint/Convocation%202005/Hall%20Convo%20Shoot/?start=0
Just as I was about to leave school by cab, my eyes glanced past a van which its driver looks as if he recognises me. And its weizhou, henry's roomie. And to my surprise, a long-lost and v.pretty lady's in his van. Thats Weiling. What a way to see my secondary school friends. It seems to be that fate has brought me closer to my secondary sch friends, allowing me to meet them at wierdest and most impossible places of all! First, was Guanda last week, and now, its Weiling. Picture with this pretty lass is inevitable. =)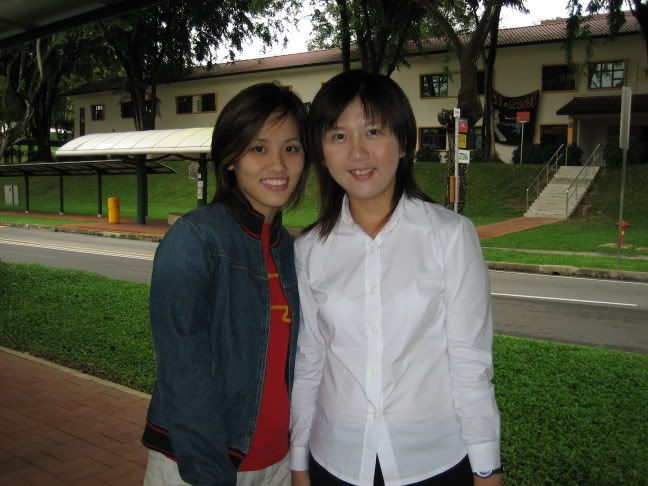 Soon, a hall-mate who was my tuition friend back in sec sch times, is making his trip back home. And he offered me a ride, though it was out of his way. I rejected initially, but ended up in his car cause I've been waiting for like 15 mins and no cab pick me. Chatted along the way, and somehow happened to reveal his personal stuff. Sudden urge made me able to relate myself to what he is facing. I wouldn't say mine is worse, though I used to think so. But he's kinda living alone. He's facing something which to me is really kinda lonely. I'm glad he still 'look' okay at least. Such unhappy memories are not easy to erase. Or shall I put it that it is not possible to. Such memories linger and there's no way to make things undone. Do hope this friend will continue this strength he possesses. To me, he is a special friend. He was not supposed to be regarded in my circle of friends as he left me a negative impression back then. But able to catch this friendship in hall days, erasing the previous negative impression, is something I treasure. I guess he needs friends to hold him through. If I were him, I wouldn't have survive this long. Shall shower this treasured friend of mine with more care and concern.

Something wrong happened on the way. We lost the way. Trying to figure out, at the same time mum was wondering where I was. She wasnt angry that I took a long time. But the fact that bro was stingy with his hp. I guess Starhub network wasnt working near Chinatown area. And my mum tot I was on a cab. She doesnt know I'm on a friend's car. And she panicked. When I picked up her call. She screamed at me at the top of her voice. My hp nearly explode I guess. I thought she was angry with me. No doubt she is, but she's worried i might be involved in accident since there's no signal from hp. Or I might be kidnapped(possible meh?), or met some misfortune. Its not my fault to make her worry. Its Starhub network and my stingy bro which made her boil. Well, my mum's a tigeress. I guess she scare my friend who thought its his fault of getting lost. Its not. She's just a tigeress. Bah ha ha ha. My 'dirty-minded, cleanliness-freak, tigeress' mum.. I'm used to it. Haha.